This store requires javascript to be enabled for some features to work correctly.
14K SOLID GOLD PERMANENT JEWELRY
Invest in a timeless piece of jewelry that lasts forever, with an experience to last a lifetime.
the solid gold standard in permanent jewelry
This is what forever looks like.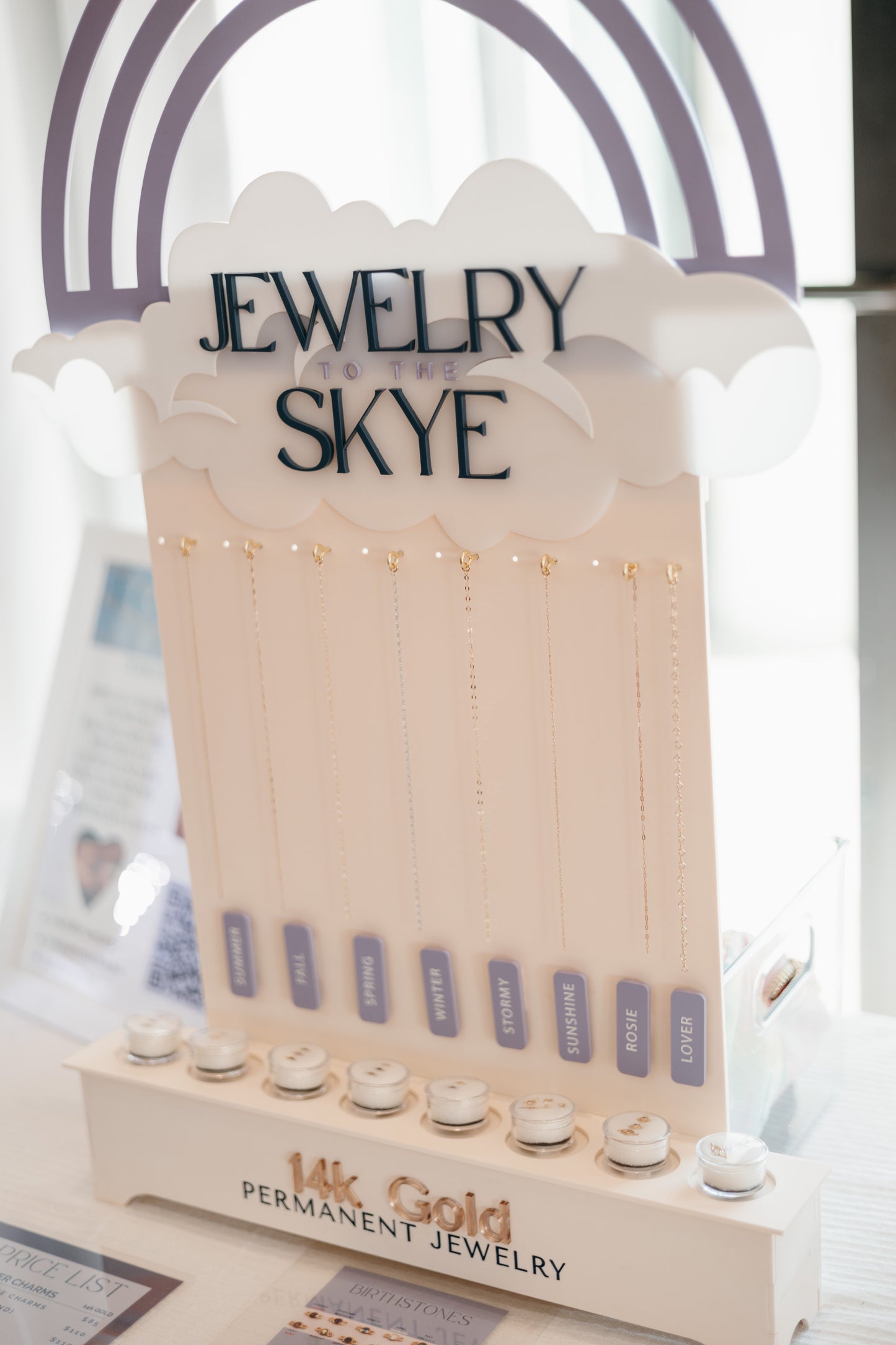 1. PICK YOUR CHAIN
Our selection of 14k solid gold chains are dainty classics of the highest quality, with something for everyone. Check back regularly for additions to our chain collection.
14K SOLID GOLD CHAINS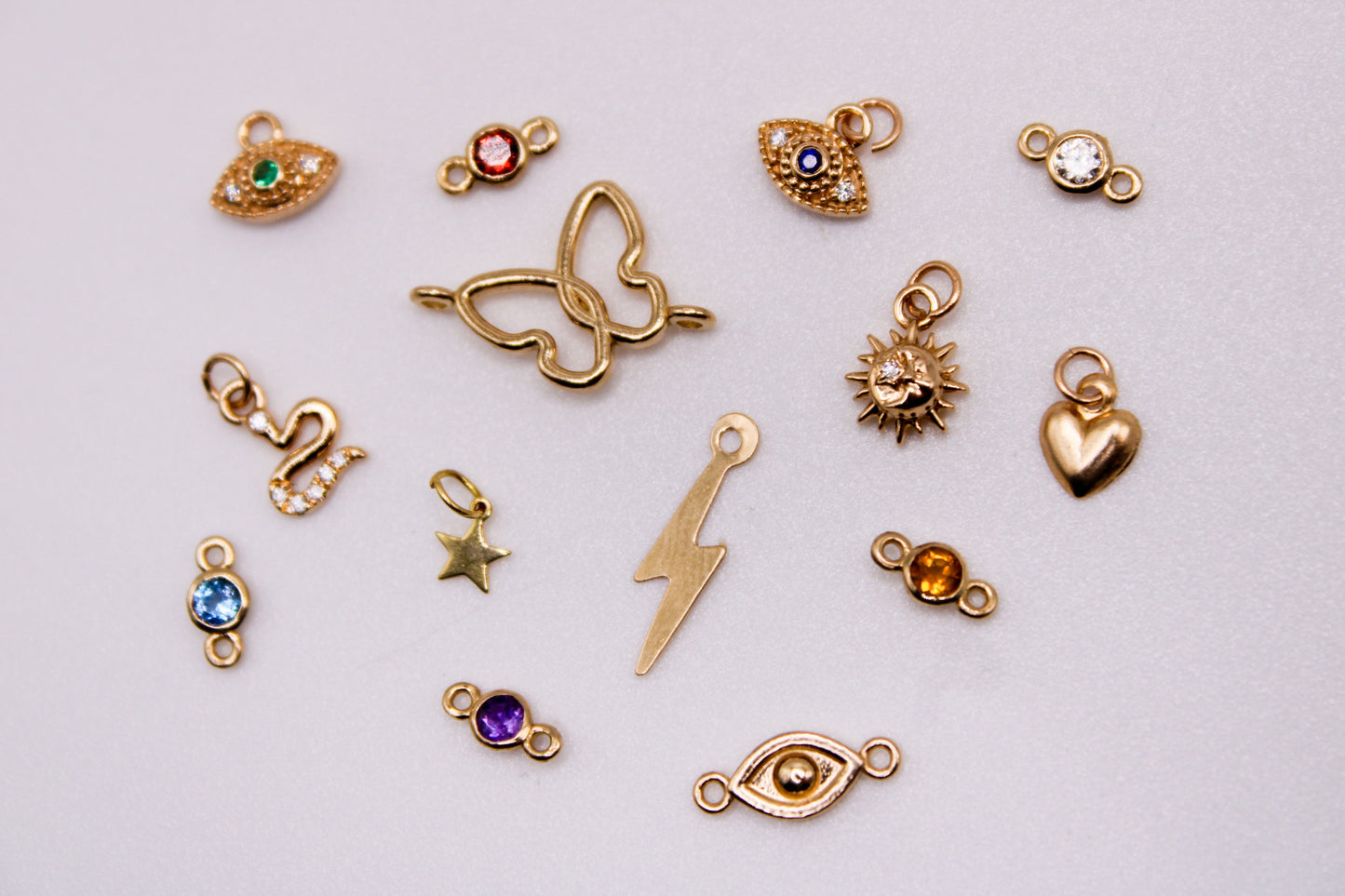 2. PICK YOUR CHARM
Our charm collection is unique & always expanding! We choose the finest quality charms made of genuine diamonds & gemstones to add sparkle to your creations.
CHARM BAR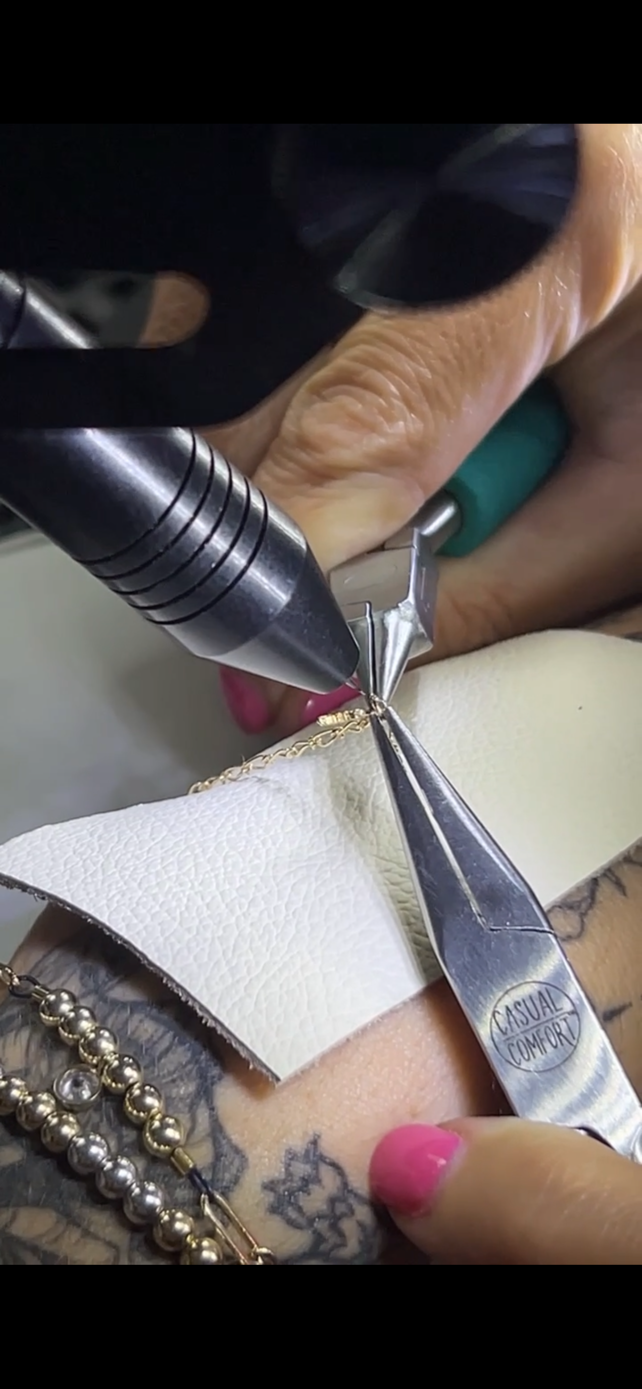 3. GET FOREVER STACKED
Not all permanent jewelry is created equal. We have VERY high standards & trained with top-of-the-line welding equipment by Sunstone, and considered to be the best in the industry.
THE PROCESS
Frequently asked questions
Your favorite classic 14k gold chains can now be worn 24/7 without a clasp! Mix & match your favorite Jewelry to the Skye pieces with dainty permanent chains. Welded on with a quick zap from our expert welder!
Your new 14k gold chain is measured to fit & instead of a clasp, the chain is welded on with a small 14k jump ring.

Getting your permanent jewelry welded is safe & painless & you won't feel a thing! It's a quick & fun way to add classic pieces to your stacks while bonding with friends & loved ones.
If you decide you want to remove your forever bracelet you can cut it off with a scissor & bring it back to us. We will add a clasp for a small fee, so you can still enjoy it, forever!

If you need to remove your forever bracelet for a medical procedure, contact us for a free re-weld.
The fine quality & hypoallergenic nature of 14k solid gold makes it the right choice for jewelry that you cannot take off. We want your forever bracelets to withstand constant wear & tear! Solid gold can endure any and all of your daily activities. Think of your Forever stack as in investment, something that will likely increase in value, unlike "disposable" jewelry that will not stand the test of time. At J2S we love gold-filled material but we reserve it for our handmade collection that has clasps and can be removed for proper cleaning & care.
Life happens! While our dainty chains are strong & mighty, permanent jewelry is not indestructible, fine gold chains do have a risk of breaking if caught or pulled. If your jewelry comes off within 14 days of your appointment, bring it back to us and we will reweld it on.
Our forever chain is subject to change depending on the gold market at your time of purchase. Please check back with us for all our current chain & charm offerings.

For private events, with enough notice, we can work with our suppliers to get you exactly what you want! Ask about our special charms to fit your party theme!!

 
Permanent jewelry is not suggested for people with pacemakers or allergies to gold.

Due to their permanent nature, Forever stacks are intended for ages 12 and up. Minors under the age of 18 must have parental consent to receive permanent jewelry. Check out our Ready to wear Match your Mini collection for children ages 5 & up.
Our 14k solid gold chains are the only chains that can be welded on for permanent jewelry. Enjoy our Handmade Clasped Collections layered with your Forever Stacks for trendy & timeless looks. J2S does not weld customer provided jewelry.
Check out our calendar to see where we are popping up next, or Invite us to your next event! Permanent jewelry parties are perfect for bridesmaids, best friends, bachelorettes, birthday parties, corporate events or any special event where FUN memories will be made. 

Have a local small business & would like to partner with us? Let's chat about collaborating for your next pop up.
Private event inquiries: info@jewelrytotheskye.com or contact us below.
Have a question, or want to book a private event?
Contact us